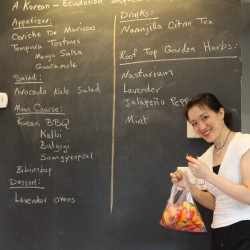 I was hired to cater an engagement party this past summer.   On their first day of orientation, Chris, a Korean American Internal Medicine resident met Joyce, an Emergency trauma nurse who grew up in a household with an Ecuadorian father and Chinese mother. Being that we are all part of the Lenox Hill Hospital family, it was important for me come up with a menu that would blend their cultures through food and celebrate their new life together.
Everybody's relationship with food and the story surrounding it is as unique as one's playlist. For example, I have seen all sorts of foods and things people decide to bring home with them from the grocery store, bearing witness to the Brooklyn architect's refrigerator, his essential food ingredients housed beside a curated array of local craft beers; to the Dangerfield's comedian's icebox, suffocated by boxes upon boxes of foodstuff; to the Harvard mathematician-turned-professional gambler. His refrigerator? It contained absolute zero.
Yet, in my kitchen with a standing space of 2×4 on one end to 1×4 on the other, I've found limited space to be the fountainhead of innovation and smart use of workspace. I've found the ability to prepare and make beautifully simple food of global reach, enough to serve from 1 to 100.  With seven kinds of salts, four types of oil and one cooking vessel, the combination of a discriminating Costco pantry compactly stacked above my kitchen cabinets necessitating a bar stool for me to reach, plus, my choice in any natural born ingredient dictated by the grocer's weekly sale items, subsequently adopted by my refrigerator, in a pinch (and of salt), I travel the world.